SELECT MODEL:  Landscaper Series
Jet Agitation
Hydroseeding®
Equipment
Easy Lawn's Landscaper Series of jet agitation hydroseeding equipment offers a full range of small hydroseeders with industry-leading performance.
With 100, 200, 300, 550, and 900 gallon tank options, these competitively priced units are great for small contractors, municipalities, nurseries and groundskeepers who want professional results when performing the occasional patch or lawn hydroseeding.
At Easy Lawn, we know your days are full. So any piece of equipment that requires excessive maintenance or is complicated to operate will eventually eat into your bottom line. When you choose a hydroseeding model from our Landscaper Series, you can be confident you're getting a piece of equipment totally designed with maximum performance, ease of use and low maintenance in mind.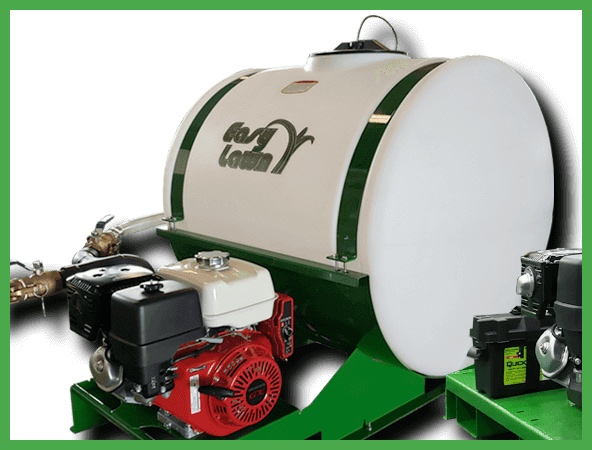 The Benefits

of Easy Lawn's
Landscaper Series Hydroseeders
Whenever hydroseeding requires you to hold your ground with professional results, Easy Lawn's landscaper series has you covered. Our jet agitation hydroseeding equipment is filled with valuable cost-of-ownership solutions. From the convenience of our compact and lightweight design to the performance of our jet agitation and easy-change nozzle systems, you'll immediately accomplish more in less time — without the hassles and worries that come from costly, inconvenient maintenance issues.

Compact and
Lightweight Design
Easy Lawn's Landscaper Series hydroseeding machines are the lightest and most compact of our Hydroseeder machine line. The following are the mounting options for our different machines.
L10 and L20 Hydroseeders
These are the smallest of our hydroseeding equipment line. They come as a skid unit that can be mounted on a utility vehicle bed, small utility trailer, or in any size pickup bed.
Tank capacity: 100 and 200 Gallons for the L10 and L20, respectively.
L30 Hydroseeder
This mid-sized unit comes as a skid unit that can be mounted to a single axle landscape trailer or in a 3/4 ton full-size pickup bed.
Tank capacity: 300 Gallons
L55 Hydroseeder
A size up from our L30, this unit comes as a skid unit that can be mounted to a dual axle landscape trailer or a flatbed truck.
Tank capacity: 550 Gallons
L90 Hydroseeder
The largest of our Landscaper Series product line, the L90 comes as a trailer mounted unit that can be towed behind a 3/4 ton or larger pickup truck.
Tank capacity: 900 Gallons
We thought of all the other jobs you have to accomplish with your truck. That's why we designed our highly versatile skid mounted units with fork pockets. Now, with just a forklift or a skid-steer with forks, you can quickly load and unload your hydroseeder and get going with the next task at hand.